That banner photo up above? That's on Mount Hotham, the nicest bit. The part where you've already made it to the top, enjoyed a big plate of nachos from the pub and have just lived to tell the tale of descending Diamantina and CRB Hill on the way back to Harrietville, or Bright if your legs are feeling extra keen.
Taken on our maiden group ride in the Victorian High Country, it was a day that would go on to add a deeper layer to the mythology of the Soup Boys – only too fitting that an iconic mountain so deeply etched into Australian cycling folklore would play its role as our backdrop on that very special day.
A few years later we're back to celebrate the 2018-19 season of 7 Peaks with Ride High Country. We've experienced the feeling of reaching the summit of these climbs before; we've felt the warm kiss of the sun, the gentle caress of the alpine breeze as we head further skyward, and that reinvigorating chill of a dip in the river, post ride drink in hand. Days spent doing just that have shaped us as riders, as people, and its an experience we want to share and help unlock among the wider bicycling community. We've witnessed the true year round beauty of the High Country region during a mind-boggling mid-winter mission, but now we return for a celebration of cycling and summer, on the relaxed vibe typical of the region during the warmer months.
Whether you've ticked off these peaks a whole bunch of times or this summer marks the occasion you'll take on the challenge for the first time, consider us your sherpas helping you on your way to the top. We're here to help you reach those lofty heights on 4 very special free hosted group rides that take you from the base to the summit of 4 iconic climbs in Victoria's High Country.
Along the way we've got some really cool shit going on: limited edition t-shirts, local trivia, curated ride playlists and some special (optional) side missions. We're keeping things low key and ultra-personal, but most of all we're keeping them fun in the kind of way we know best.
Eurobin Creek Picnic Area → Mt Buffalo Chalet
20.9km — 4.8%av. — +1013m

Mount Buffalo, that climb where its near impossible to have bad memories of. It's your cooler older cousin who helped shape your childhood, the one where every time you catch up as adults there is a palpable feeling of warmth, nostalgia and respect. In our eyes it was the perfect way to kick off our 7 Peaks season and our series of hosted rides.
Over 50 people joined us for some Sunday fun on a perfectly sunny morning over the Melbourne Cup weekend. Through riding with some faces both new and old, we heard stories and witnessed athletic feats that made for a truly memorable day. We channelled the incredible feeling of making it to the top, and helping people achieve something new and spectacular and blended it with our own experiences of Mount Buffalo. The result? A Soup Boys Ultimate Guide to climbing Mount Buffalo. We can't guarantee it will get you a KOM or QOM, but it will sure and shit help you have a great day out.
Say hello to our first of four collaborative t-shirts with Ride High Country – all produced in celebration of "An Alpine Summer" and all that is 7 Peaks. Designed in house at the Soup Boys creative capital known as "Studio Cayman", this limited edition t-shirt is inspired by Mount Buffalo's enormous granite cliff faces that look down upon you as you snake your way towards the top of the mountain.
Personally printed to order in the Soup HQ workshop, these will be made available for free pick up at the start or finish line of our ride, or shipped out to those that can't make it, but simply want to celebrate the existence of a mountain they hold dear.
Pioneer Park, Harrietville → The General, Mt Hotham
30.8km — 4.2%av. — +1279m

Mount Hotham, one of the most imposing mountain climbs in Australia. A climb where every cyclist who has ridden bikes longer than you tells you about horrid weather and when CRB Hill was "at least twice as steep" as the current 10%. Fortunately that's no longer the case, and so we are able to foster a loving relationship with this giant beast.
Given that it was in that busy period between Tour of Bright, workplace Christmas piss-ups and cracking the whip on your kids who should be studying for exams, we were quite impressed with the 30 riders who rolled up to share a coffee and a morning ride. Summer had truly arrived the day prior with 40º temperatures, but on this particular day the ambiance was much more pleasurable, as were things on the road as we guided 4 groups to the top, and watched a paid professional cyclist overtake us all…twice. We've already tackled Mount Hotham twice this summer now, so were slowly growing into our roles as experts, let our Ultimate Guide make things a little easier for you if you're taking it on for the first time, or let us show you a new side to this stunning mountain climb.
Here's a list of the most famous poles: Jackson Pollocks blue ones, those both north and south, Robert Lewandowski, the poles that prop up a frosty ice cream in the heat of summer, and of course them orange bois guiding you to the top of Mount Hotham.
When the orange poles kick in on Australian mountains you know things mean business, and on Mount Hotham, if you've got the energy and the audacity to be looking up from your stem then they are there, staring you in the face on the roadside. They've left us so inspired that we've channelled their specific aura and put em on a t-shirt. Designed and printed in house, Pantone colour matched to said poles.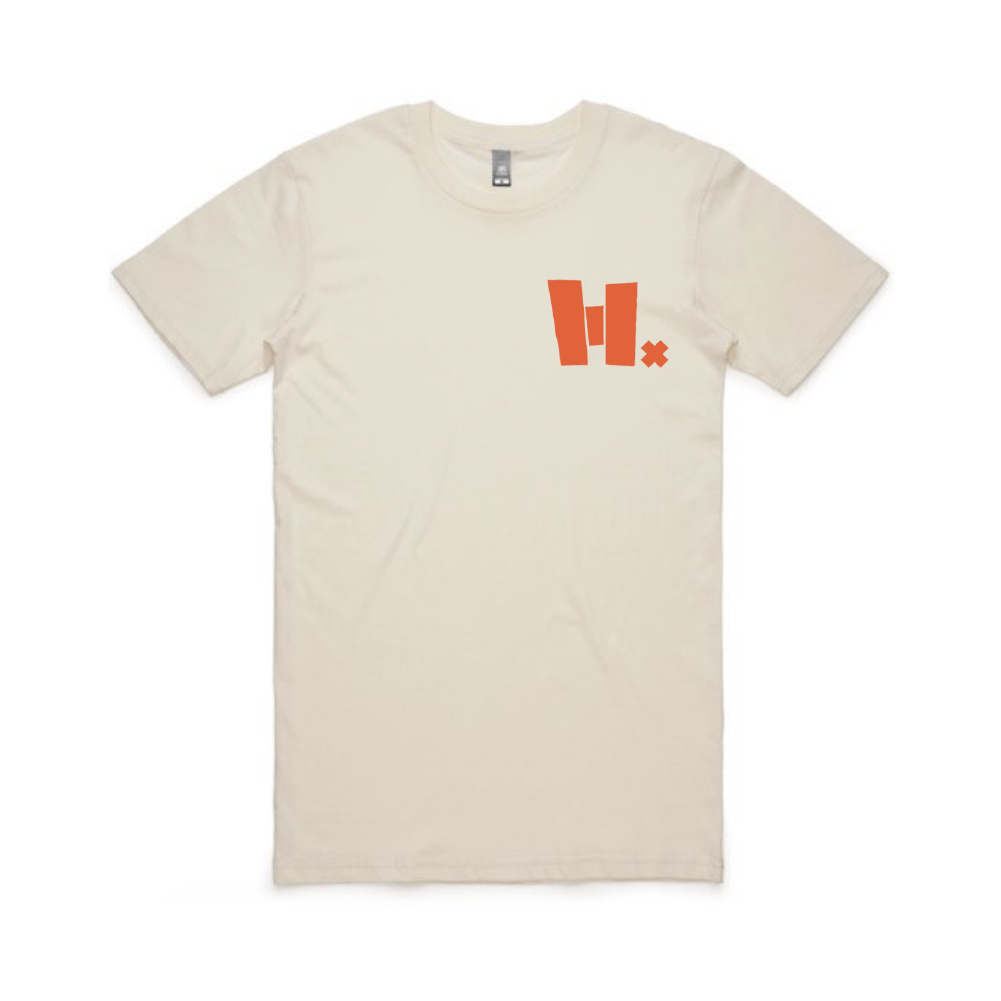 Mirimbah Ticket Box → Coffee Garage, Mount Buller
16.8km — 5.9%av. — +985m

In early February amidst a summer that was about to commence one last hurrah, we gathered in the luscious surrounds of Mirimbah at the based of Mount Buller.
The snow covered winter playground of many Melburnians had transformed into a wonderland for those on two wheels for the summer, catering for those on the tarmac or taking on some off-road adventures.
For us and nearly 50 guests, it would be the former, our third 7 Peaks hosted ride about to take us from this quaint locality at the bottom, right up to the Mount Buller village a bit over an hour up the mountain.
With one eye on several "different" rain radars and another on the road upward, our four ride groups took to the climb in great spirits, hoping to take in a morning of wondrous alpine exercise.
It was the first time we'd ridden up Mount Buller as the SBC, and the first time some had ridden up it in non-race conditions, so the opportunity to mix it with our ride guests, take in the views, stomach a coffee at the top, and be able to remember it all in crystal clear quality not only allowed us to put together a comprehensive ride guide, but meant we were able to enjoy the underrated splendour of Mount Buller.
Our latest t-shirt in collaboration with Ride High Country celebrates the chaos, horror and mythology of Mount Buller's most famous corner: Hells Corner. This striking design has been lovingly pieced together by @laurenscalora and pays homage to some of the SBC's past memories of Mount Buller, and celebrates the creation of new ones through this hosted ride for the 2018-19 #7PeaksRide season. It's black metal, psychological thrillers and a haunting ballet troupe of incredible graphics that are dancing on a blank canvas that in this case is the back of a t-shirt.
Hand printed in the Soup HQ workshop using "Blood Sacrifice Red" (vegan) ink.
Rocky Valley Bikes → Falls Creek Village
29.8km — 3.9%av. — +1164m

To wrap up our series of hosted rides we managed to pick a beautiful sunny morning to take on the Bogong High Plains Road from Mount Beauty to Falls Creek. Coffee taken care of by the team at Rocky Valley Bikes, we were joined by a diverse bunch of 40 guests, rolling out in a few different groups. The roads were quiet, the local fauna was out on the road side, and we enjoyed taking everybody – some first time climbers, to the top.
Once at the Falls Creek resort we basked in the sunshine and enjoyed coffee and cake with friends, chatting about how amazing the Bogong High Plains Road is time and time again, and recalling our favourite moments from what has been an amazing summer in Victoria's High Country.
SBC x RHC Falls Creek T-shirt
Our fourth and final collaborative t-shirt in partnership with Ride High Country has been designed and printed out of respect, love and deep thanks to this exact roadside vending machine. Since the day it bestowed us with $2 cans of pure, unadulterated refreshment as we waited for the Herald Sun Tour, it has played an integral role in the Soup Boys own journeys up the Bogong High Plains road. Even though it has since moved a few hundred metres up the road to the tollbooth, may this sugar coated vending machine remain as an oasis in the alpine desert for generations to come. Celebrate the final SBC x RHC ride of this #7Peaks season by either buying a shirt, or stopping by the vending machine on your way up to pay your respects and make an offering in exchange for a fresh drink.